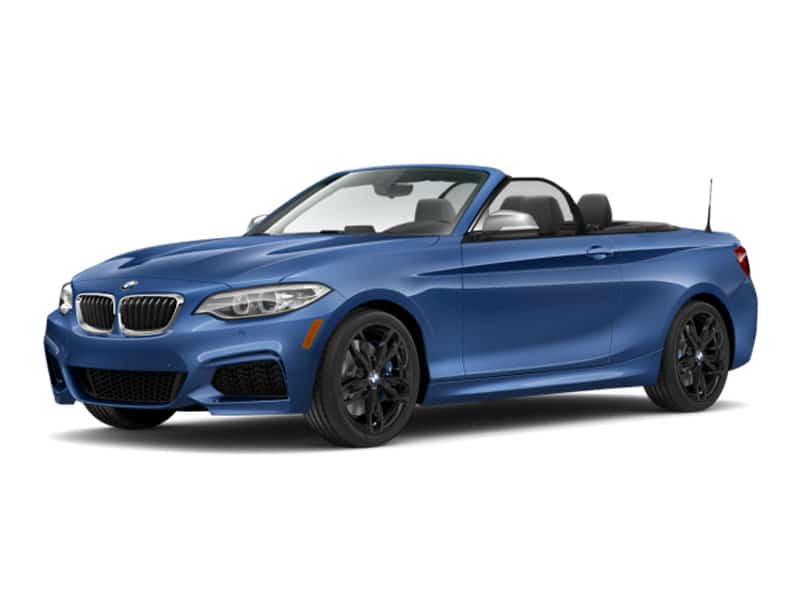 HIRE A BMW M3 Cabriolet
ENGINE SIZE
4.0 L V8
BHP
414
0 to 100km/hr
5.3 SECONDS
TOP SPEED
249km/h
Book this car now for fully guaranteed delivery
FROM ONLY
€240 / DAY
Call our dedicated reservation team on +34 617 778 453
BMW M3 Cabriolet RENTAL
The BMW M3 is a high-performance version of the BMW 3 Series, developed by BMW's in-house motorsport division, BMW M GmbH. M3 models have been derived from the E30, E36, E46, E90/E92/E93 and F80.
The initial model was a coupe body style. At times the M3 has also been available in saloon and convertible body styles. Due to the 4 Series coupe and convertible models no longer being part of the 3 Series range from 2015,[1][2] the F82/F83 coupe and convertible models are now called the M4. The M3 name remains in use solely for the saloon version.
Upgrades over the "standard" 3 Series automobiles include more powerful and responsive engines, improved handling/suspension/braking systems, aerodynamic body enhancements, lightweight components, and interior/exterior accents with the tri-colour "M" (Motorsport) emblem.
To keep the car competitive in racing following year-to-year homologation rules changes, homologation specials were produced. Homologation (motorsport) rules roughly state that the race version must reflect the street car aerodynamically and in engine displacement. These include the Evo 1, Evo 2, and Sport Evolution, some of which featured less weight, improved aerodynamics, taller front wheel arches (Sport Evolution; to further facilitate 18-inch (460 mm) wheels in DTM), brake ducting, and more power. Other limited-production models (based on evolution models but featuring special paintwork and/or unique interior schemes commemorating championship wins) include the Europa, Ravaglia, Cecotto, and Europameister.
Production of the original E30 M3 ended in early 1992.
The M3s were entered by BMW as well as private racing teams and its wins included the Deutsche Tourenwagen Meisterschaft, British Touring Car Championship European Touring Car Championship, Australian Touring Car Championship, as well as the World Touring Car Championship drivers' title in 1987. The E30 M3 is also a multiple winner of Guia Race, 24 Hours Nürburgring and Spa 24 Hours.
The M3 also saw service as a rally car, with Prodrive-prepared examples contesting several national championships and selected rounds of the World Rally Championship between 1987 and 1989. By the latter year, the cars, based on the standard M3, were equipped with six-speed gearboxes and produced 295 bhp. The M3 was not very competitive with the four-wheel-drive cars on loose surfaces, but a very effective car on asphalt. Its most notable success was victory on the Tour de Corse in 1987, driven by Bernard Beguin.
ABOUT BMW
When considering which luxury car marque to hire BMW is often one of the first names that comes to mind. 365 luxury car hire are very proud to be able to offer some of the most sought after BMWs for hire right across Europe. Perhaps a BMW M3 Rental will give you that sporty thrill or you could Hire a BMW M6, the M3s bigger brother. For the sheer fun factor a BMW Z4 rental is guaranteed to make your next trip away enjoyable. Bavarian Motor Works Founded in 1916 in Bavaria, BMW has almost 100 years of prestige automotive excellence to offer and this can be seen in every single car they make. Aside from being a mark of quality BMW are one of the larger luxury car brand manufacturers in the world.
BMW Hire in Europe
More Luxury Brands in Europe
More Luxury Categories in Europe