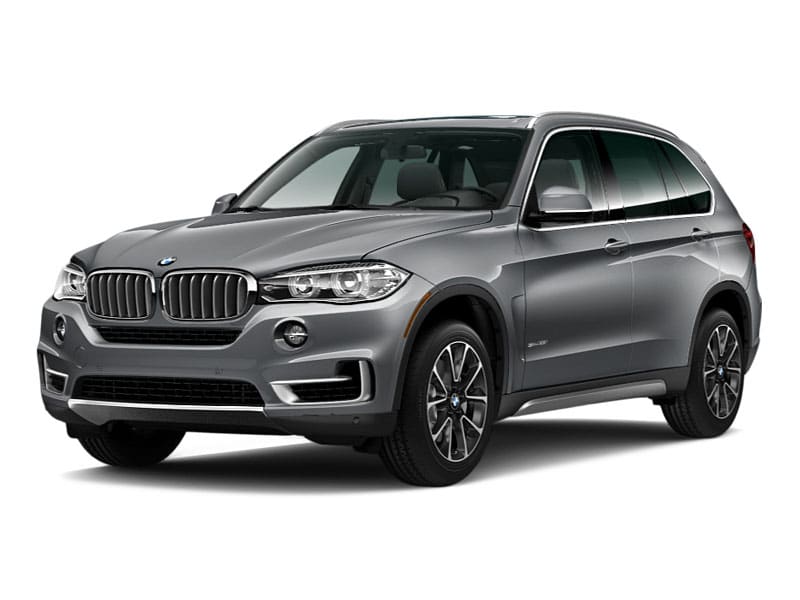 HIRE A BMW X5
ENGINE SIZE
3.0L
BHP
258
0 to 100km/hr
6.8 SECONDS
TOP SPEED
228
Book this car now for fully guaranteed delivery
FROM ONLY
€210 / DAY
Call our dedicated reservation team on +34 617 778 453
BMW X5 RENTAL
The BMW X5 is a mid-size luxury crossover produced by BMW. The first generation of the X5, with the chassis code E53, made its debut in 1999. It was BMW's first SUV and it also featured all-wheel drive and was available with either manual or automatic transmission. In 2006, the second generation X5 was launched, known internally as the E70, featuring the torque-split capable xDrive all-wheel drive system mated to an automatic transmission, and in 2009 the X5 M performance variant was released as a 2010 model.
BMW branded the X5 as a Sport Activity Vehicle (SAV) rather than an SUV, to emphasize its on-road ability despite its size. Like the Lexus RX 300, the X5 heralded the shift from light truck-based body-on-frame SUVs to crossovers underpinned by unibody car platforms that would come to fruition in the late 2000s. Among German luxury automakers, while the Mercedes-Benz M-Class had beaten the X5 to the market by a year, the X5 was the first to use a unibody chassis whereas the M-Class used a light truck platform until its second generation. While the Lexus RX is based on the Toyota Camry mass market sedan, the X5 shares its underpinnings with the BMW 5 Series performance luxury sedan.
X5s are manufactured in Greer, South Carolina at the Spartanburg BMW plant and modified for armoured, security versions in Mexico at the BMW de México Tolucaplant. Since July 2009, some assembly operations are also performed in Kaliningrad, Russia by Avtotor. Since February 2015, BMW India started local production of X5 in its Chennai plant.
Starting with the X5, BMW's Sport Activity Vehicle (SAV) series has since expanded to be derivatives of other BMW number-series models, first in 2003 with the BMW X3 compact luxury crossover, and then in 2008 with the BMW X6 midsize coupe luxury crossover which shares its platform with the X5.
The BMW F15 is the third generation X5 Sports Activity Vehicle (SAV), unveiled on 30 May 2013 and launched in November 2013.
The new model is using same chassis with same wheelbase of previous generation and it is launched with an initial choice of three engines: a 450 hp V8 petrol engine (xDrive50i) and two six-cylinder in-line diesel units, producing 258 hp with one turbo (xDrive30d) and 381 hp with three turbos (M50d M Performance), respectively. In December 2013, further engine options will become available: xDrive40d, xDrive35i and, for the first time on the X5 model, two four-cylinder engines xDrive25d and sDrive25d (with two-wheel transmission).
As with the previous model, it is assembled at BMW's Spartanburg plant in South Carolina, United States.
ABOUT BMW
When considering which luxury car marque to hire BMW is often one of the first names that comes to mind. 365 luxury car hire are very proud to be able to offer some of the most sought after BMWs for hire right across Europe. Perhaps a BMW M3 Rental will give you that sporty thrill or you could Hire a BMW M6, the M3s bigger brother. For the sheer fun factor a BMW Z4 rental is guaranteed to make your next trip away enjoyable. Bavarian Motor Works Founded in 1916 in Bavaria, BMW has almost 100 years of prestige automotive excellence to offer and this can be seen in every single car they make. Aside from being a mark of quality BMW are one of the larger luxury car brand manufacturers in the world.
BMW Hire in Europe
More Luxury Brands in Europe
More Luxury Categories in Europe