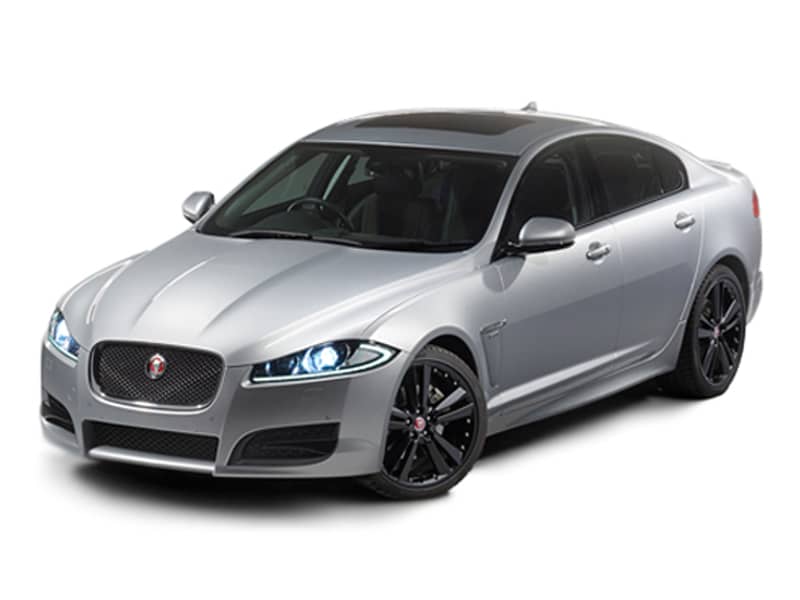 HIRE A Jaguar XF
ENGINE SIZE
4 L V6
BHP
208
0 to 100km/hr
8.7 SECONDS
TOP SPEED
229 km/h
Book this car now for fully guaranteed delivery
FROM ONLY
€250 / DAY
Call our dedicated reservation team on +34 617 778 453
Jaguar XF RENTAL
The second generation XF (codename X260) was launched in September 2015, with a phased roll-out to other markets to follow. It is the first Jaguar with LED headlamps. Because of extensive use of aluminium, the car will be 190 kg (419 lb) lighter than its predecessor, although it strongly resembles its predecessor – as well as the smaller XE range which was launched the following year. Engines range from 163 PS (120 kW; 161 hp) diesel to 380 PS (279 kW; 375 hp) petrol, with up to 700 N·m (516 lb·ft) of torque. The XF is available with the same eight-speed automatic transmission, and also carries a six-speed manual for the first time.
The car is 7 mm (0.3 in) shorter than the predecessor, but the wheelbase is 51 mm (2.0 in) longer, enabling the manufacturer to claim an increase in the space available for passengers in the back.
ABOUT jaguar
For more than 90 years Jaguar has created driving machines that "provide moments that feed your soul". Jaguars founder, Sir William Lyons insisted that each and every car the company produced is a perfect combination of performance and beauty and the company holds that true to this day. Their most recent addition to the Jaguar stable, the F-TYPE has wowed enthusiasts the world over and Jaguar describe it as continuing the bloodline with a heritage in the C, D, E-Type, F Pace and X range. The E-Type often begin described as the most beautiful car in the world. With a history dating back nearly a century, it comes as no surprise that Jaguar have a side of the business dedicated to "Jaguar Heritage". By supporting owners of the historic cars with servicing and parts they feel it will allow future generations to enjoy these stunning vehicles. Many have said the F-TYPE is already a modern classic, but Jaguar may have other modern plans for the future. The stylish F Pace they have showcased is certainly giving other luxury 4x4s a run for their money. With an eye on the environment Jaguars stunning supercars boasts amazing performance and is rocketed along using it parellel hybrid electric engine. This could be a sign of things to come but one thing is for sure, whatever the future holds the Jaguar driving experience is one that is always going to be unforgettable.
jaguar Hire in Europe
More Luxury Brands in Europe
More Luxury Categories in Europe