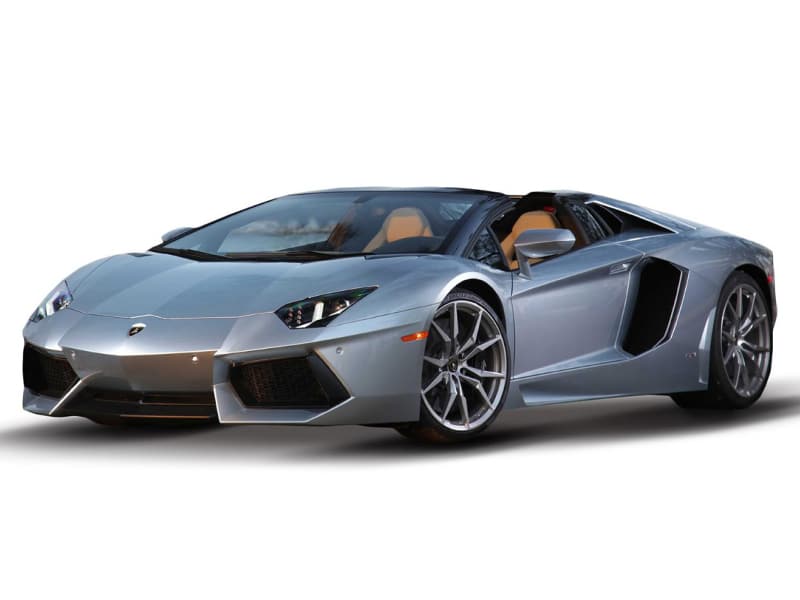 HIRE A Lamborghini Aventador Roadster
ENGINE SIZE
6.5 L V12
BHP
691
0 to 100km/hr
3 SECONDS
TOP SPEED
350 km/h
Book this car now for fully guaranteed delivery
FROM ONLY
€1650 / DAY
Call our dedicated reservation team on +34 617 778 453
Lamborghini Aventador Roadster RENTAL
The 2013 Aventador LP 700-4 Roadster was announced for production on 27 December 2012, equipped with the same V12 engine as the coupé version, Lamborghini claims again that it can reach 97 km/h (60 mph) in less than 3 seconds and a top speed of more than 350 km/h (217 mph).
The removable roof consists of two carbon fiber panels, weighing 6 kg (13 lb) each, which required the reinforcement of the rear pillar to compensate for the loss of structural integrity as well as to accommodate the rollover protection and ventilation systems for the engine. The panels are easily removable and are stored in the front luggage compartment. The Aventador Roadster has a unique engine cover design and an attachable wind deflector to improve cabin airflow at high speed as well as a gloss black finish in the A-pillars, windshield header, roof panels, and rear window area.
ABOUT lamborghini
Ferruccio Lamborghini, an Italian fabricating financier, established Automobili Ferruccio Lamborghini S.p.A. in 1963 to rival built up marques, including Ferrari. The organization increased wide approval in 1966 for the Miura sports car, which set up rear engine, rear wheel drive as the standard format for superior autos of the period. Lamborghini developed quickly amid its first decade, however deals dove in the wake of the 1973 overall monetary downturn and the oil emergency. The associations possession changed three times after 1973. American Chrysler Corporation took control of Lamborghini in 1987 and sold it to Malaysian speculation group Mycom Setdco and Indonesian bunch VPower Corporation in 1994. In 1998, Mycom Setdco and VPower sold Lamborghini to the Volkswagen Group where it was set under the control of the Audi division.
OTHER lamborghini'S AVAILABLE
lamborghini Hire in Europe
More Luxury Brands in Europe
More Luxury Categories in Europe