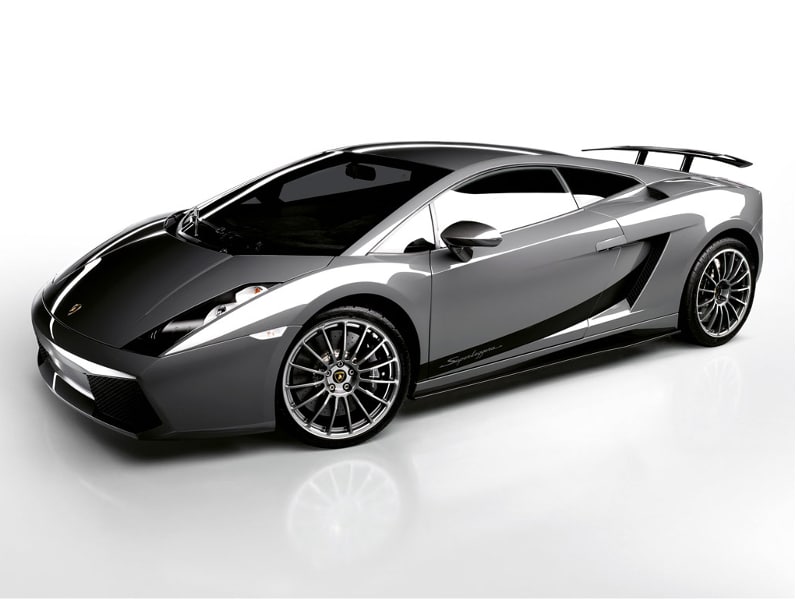 HIRE A Lamborghini Superleggera
ENGINE SIZE
5.2L V10
BHP
530
0 to 100km/hr
3.8 SECONDS
TOP SPEED
320 kph
Book this car now for fully guaranteed delivery
FROM ONLY
€1050 / DAY
Call our dedicated reservation team on +34 617 778 453
Lamborghini Superleggera RENTAL
During the 2007 Geneva Auto Show Lamborghini debuted the Gallardo Superleggera. The name paid tribute to the construction style of the first Lamborghini production model, the 350GT, designed and built by Carrozzeria Touring and its emphasis on weight reduction. The Superleggera was lighter than the base Gallardo by 100 kg (220 lb) via the use of carbon fibre panels for the rear diffuser, undertray, the rearview-mirror housings, the interior door panels, the central tunnel, engine cover; titanium wheel nuts and carbon fibre sports seats. The engine power was upgraded by 10 PS (7 kW; 10 hp) thanks to an improved intake, exhaust and ECU for a total of 530 PS (390 kW; 523 hp). The 6-speed E-Gear transmission was standard on US spec models with the 6-speed manual transmission offered as a no cost option.
618 Superleggera MK1 models were made worldwide.
ABOUT lamborghini
Ferruccio Lamborghini, an Italian fabricating financier, established Automobili Ferruccio Lamborghini S.p.A. in 1963 to rival built up marques, including Ferrari. The organization increased wide approval in 1966 for the Miura sports car, which set up rear engine, rear wheel drive as the standard format for superior autos of the period. Lamborghini developed quickly amid its first decade, however deals dove in the wake of the 1973 overall monetary downturn and the oil emergency. The associations possession changed three times after 1973. American Chrysler Corporation took control of Lamborghini in 1987 and sold it to Malaysian speculation group Mycom Setdco and Indonesian bunch VPower Corporation in 1994. In 1998, Mycom Setdco and VPower sold Lamborghini to the Volkswagen Group where it was set under the control of the Audi division.
OTHER lamborghini'S AVAILABLE
lamborghini Hire in Europe
More Luxury Brands in Europe
More Luxury Categories in Europe