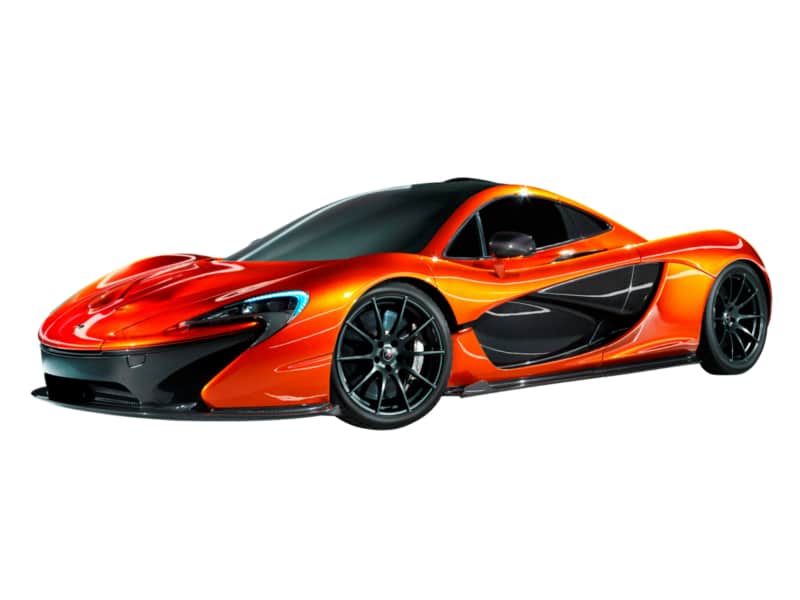 HIRE A McLaren P1
ENGINE SIZE
3.8 L V8
BHP
647
0 to 100km/hr
2.8 SECONDS
TOP SPEED
349 km/h
Book this car now for fully guaranteed delivery
FROM ONLY
€9000 / DAY
Call our dedicated reservation team on +34 617 778 453
McLaren P1 RENTAL
The McLaren P1 is a British limited-production plug-in hybrid sports car produced by McLaren. Debuted at the 2012 Paris Motor Show, retail began in the UK in October 2013 and all 375 units were sold out by November. Production ended in December 2015. The United States accounted for 34% of the units and Europe for 26%.
It was considered to be the successor to the F1, utilising hybrid power and Formula 1 technology, but did not have the same three seat layout as its predecessor. Like the F1, the P1 is a mid-engine, rear wheel drive design that used a carbon fibre monocoque and roof structure safety cage concept called MonoCage, which is a development of the MonoCell first used in the MP4-12C and then in subsequent models. Its main competitors were the LaFerrari and the Porsche 918. They are all similar in specifications and performance, and in a race round Silverstone circuit they were all within half a second of each other, the P1 finishing first at 58.24 sec and the LaFerrari finishing last at 58.58 sec; the Porsche was in-between with 58.46 sec.
A track version of the P1, the P1 GTR, was unveiled at the 2015 Geneva Motor Show. Production of the GTR was limited to 58 cars.
ABOUT mclaren
In 1992 McLaren began producing its first road car, the McLaren F1, which had many similarities to its F1 car. In total, 106 were produced from 1992 to 1998, and even though it has been out of production for 15 years, there are still few production cars with a higher top speed than the F1. Among those that are faster are the Koenigsegg Agera R, Bugatti Veyron, SSC Ultimate Aero, Bugatti Veyron Super Sport and the Koenigsegg One:1. McLaren Automotive (often simply McLaren) is a British automaker founded by Bruce McLaren and is based at the McLaren Technology Campus in Woking, Surrey. It produces and manufactures sports and luxury cars, usually produced in-house at designated production facilities. In July 2017, McLaren Automotive became 100% owned by the wider McLaren Technology Group.
OTHER mclaren'S AVAILABLE
mclaren Hire in Europe
More Luxury Brands in Europe
More Luxury Categories in Europe