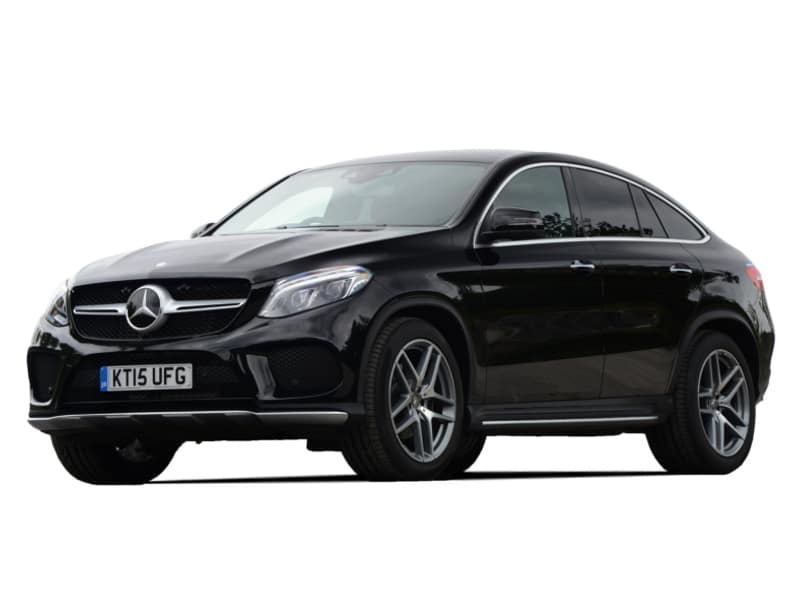 HIRE A Mercedes GLE
ENGINE SIZE
3 L V6
BHP
367
0 to 100km/hr
5.7 SECONDS
TOP SPEED
250 km/h
Book this car now for fully guaranteed delivery
FROM ONLY
€290 / DAY
Call our dedicated reservation team on +34 617 778 453
Mercedes GLE RENTAL
The Mercedes-Benz GLE-Class is a midsize luxury crossover SUV produced by the German automaker Mercedes-Benz since 1997. In terms of size, it is slotted in between the smaller GLC-Class (based on the C-Class) and the larger GLS-Class, with which it shares platforms. For a short time, between 1999 and 2002, the M-Class was also built by Magna Steyr in Graz, Austria, for the European market, before all the production moved to the U.S. plant near Vance, Alabama. From late 2012, the M-Class was also assembled at new plants in India and Indonesia.
In 2006, development began on the next-generation M-Class and spanned over a period of 5 years, a much shorter duration than its predecessor. In 2008, the final design by Emiel Burki was approved and patented domestically on 16 December 2008 (U.S. design patent filed on 15 June 2009). The newly redesigned M-class (chassis name W166) was introduced in pre-production form 10 June 2011 as a 2012 model. The first customer-designated W166 rolled off the Tuscaloosa production line on 20 July. It is moderately refined, taking styling cues from the new generation Mercedes-Benz E-Class. An increase in rear seat legroom has been implemented, alongside adjustable rear back-rests. It was to be launched in September 2011.
New features in the 2012 M-Class include an updated 7G-Tronic Plus seven-speed automatic transmission to provide improved fuel economy, optional Adaptive Cruise Control (Distronic Plus), Active Lane Departure Warning System, and an adjustable-height air suspension (AirMatic). An ACTIVE CURVE SYSTEM with active anti-roll bars for body roll compensation was introduced.
The W166 was one of the last vestiges of the joint venture between Daimler and Chrysler while they were a consolidated company. DaimlerChrysler developed the core platform and technology, benefitting from Chrysler's strong SUV sales and R&D domestically. The underlying platform work was largely completed in 2006, as the two companies were separated. Chrysler uses the same platform to power the Jeep Grand Cherokee (WK2) and Dodge Durango. Because of the separation however, the cars are extremely different in terms of interior and body design as well as engine choices. Aside from engines, the three SUVs share many powertrain components, including some transmissions.
An On&Off Road Package is available for most markets (now including North America) as of the 2013 model year. The package adds a two-speed dual range Magna Powertrain transfer case with center differential lock, reduction gearing, underbody skid plates, and a 6-mode selectable terrain driving program system. The rear differential lock has been discontinued.
Open front and rear differentials are fitted, and use four-wheel electronic traction system (4-ETS) to simulate front and rear differential locks.
The Mercedes M-Class won first place in the "Luxury Crossover SUV" category and has been named the most ideal vehicle for Americans based on a study undertaken by California-based automotive research and consulting firm AutoPacific.
Mercedes-Benz India established a manufacturing plant in Chakan, Pune in early 2009[26] that rolled out the first W166 M-Class to be built outside the USA in October 2012. In the following month, Mercedes-Benz Indonesia began M-Class assembly at a factory in Wanaherang, West Java. These plants perform final assembly of vehicles shipped as "knocked-down" kits from Tuscaloosa, USA.
In the second half of 2015 a facelifted W166 will be released as the GLE, along with a coupé version.
The previous Popemobile was based on the 2012 M-Class and was delivered in December 2012.
ABOUT mercedes
Mercedes-Benz traces its origins to Karl Benz's creation of the first petrol-powered car, the Benz Patent Motorwagen, financed by Bertha Benz and patented in January 1886, and Gottlieb Daimler and engineer Wilhelm Maybach's conversion of a stagecoach by the addition of a petrol engine later that year. The Mercedes automobile was first marketed in 1901 by Daimler-Motoren-Gesellschaft (Daimler Motors Corporation). Emil Jellinek, an Austrian automobile entrepreneur who worked with DMG created the trademark in 1902, naming the 1901 Mercedes 35 hp after his daughter Mercedes Jellinek. The first Mercedes-Benz brand name vehicles were produced in 1926, following the merger of Karl Benz's and Gottlieb Daimler's companies into the Daimler-Benz company. On 28 June 1926, Mercedes-Benz was formed with the merger of Karl Benz and Gottlieb Daimler's two companies. Gottlieb Daimler was born on 17 March 1834 in Schorndorf. After training as a gunsmith and working in France, he attended the Polytechnic School in Stuttgart from 1857 to 1859. After completing various technical activities in France and England, he started work as a draftsman in Geislingen in 1862. At the end of 1863, he was appointed workshop inspector in a machine tool factory in Reutlingen, where he met Wilhelm Maybach in 1865. Throughout the 1930s, Mercedes-Benz produced the 770 model, a car that was popular during Germany's Nazi period. Adolf Hitler was known to have driven these cars during his time in power, with bulletproof windshields. Most of the surviving models have been sold at auctions to private buyers. One of them is currently on display at the War Museum in Ottawa, Ontario. The pontiff's Popemobile has often been sourced from Mercedes-Benz. In 1944, 46,000 forced laborers were used in Daimler-Benz's factories to bolster Nazi war efforts. The company later paid $12 million in reparations to the laborers' families. Mercedes-Benz has introduced many technological and safety innovations that later became common in other vehicles. Mercedes-Benz is one of the best-known and established automotive brands in the world.
OTHER mercedes'S AVAILABLE
mercedes Hire in Europe
More Luxury Brands in Europe
More Luxury Categories in Europe