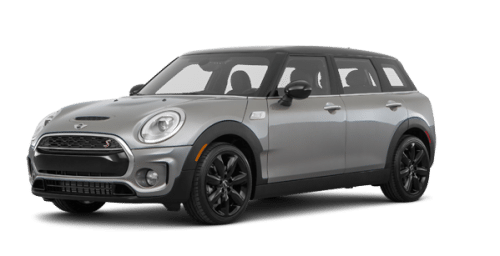 HIRE A MINI Cooper Clubman S
ENGINE SIZE
1.6 L I4
BHP
172
0 to 100km/hr
6.7 SECONDS
TOP SPEED
223km/h
Book this car now for fully guaranteed delivery
FROM ONLY
€180 / DAY
Call our dedicated reservation team on +34 617 778 453
MINI Cooper Clubman S RENTAL
A second generation Clubman was announced in 2013, with model code F54. A concept version was unveiled at the 2014 Geneva Motor Show, with the production model debuting at the 2015 Frankfurt IAA MotorShow. The new model, based on the BMW UKL2 platform, features more space. At the time of its debut, the Mini Clubman was the largest Mini ever manufactured by the brand, measuring 427 centimetres (168.3 in) long and it is wider measuring 180 centimetres (70.9 in) in comparison to the previous 396-centimetre (155.9 in). The new model has 4 doors for passengers.
This generation of the Mini Clubman comes with two engines for the North American Market. The basic model comes with the 100 kW (134 bhp) 3-cylinder engine mated with either a 6-spd manual or 6-spd automatic transmission, while the new MINI Cooper S Clubman comes with a 4-cylinder engine and 189 bhp, mated with either a 6-spd manual or 8-spd automatic transmission. All-wheel drive in the form of MINI's all4 system is optional in the Cooper S in select markets.
ABOUT mini
Mini (stylised as MINI) is a British automotive marque, owned by BMW since 2000, and used by them for a range small cars. The word Mini has been used in car model names since 1959, and in 1969 it became a marque in its own right when the name "Mini" replaced the separate "Austin Mini" and "Morris Mini" car model names. BMW acquired the marque in 1994 when it bought Rover Group (formerly British Leyland), which owned Mini, among other brands. The original Mini was a line of iconic British small cars manufactured by the British Motor Corporation, and its successors. Their models included the Morris Mini-Minor and the Austin Seven, the Countryman, Moke, 1275GT and Clubman. Performance versions of these models used the name Cooper, due to a partnership with racing legend John Cooper. The original two-door Mini continued in production until 2000. Development of a successor began in 1995 and the new generation car was launched in 2001. The current Mini range includes the Hardtop/Hatch/Convertible (three-door hatchback), Clubman (estate), Countryman (five-door crossover), Coupe/Roadster and Paceman (three-door crossover based on the Countryman). The Mini was originally a product of the British Motor Corporation, which in 1966 became part of British Motor Holdings. British Motor Holdings merged with Leyland Motors in 1968 to form British Leyland. In the 1980s, British Leyland was broken-up and in 1988 Rover Group, including Mini, was acquired by British Aerospace. In 1994, Rover Group was acquired by BMW. In 2000, Rover Group was broken up by BMW, with BMW retaining the Mini brand.
mini Hire in Europe
More Luxury Brands in Europe
More Luxury Categories in Europe