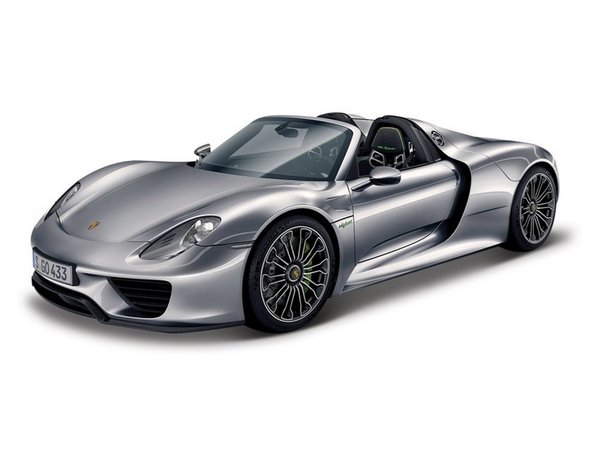 HIRE A Porsche 918 Spyder
ENGINE SIZE
4.6L V8
BHP
608
0 to 100km/hr
2.6 SECONDS
TOP SPEED
350 kmh
Book this car now for fully guaranteed delivery
FROM ONLY
€6900 / DAY
Call our dedicated reservation team on +34 617 778 453
Porsche 918 Spyder RENTAL
The 918 Spyder is a mid-engined two-seater sports car designed by Michael Mauer. It is powered by a 4.6 litre V8 engine built on the same architecture as the one used in the RS Spyder Le Mans Prototype racing car without any engine belts.
The engine weighs 135 kg according to Porsche and delivers 608 PS (447 kW) at 8,500 rpm and 528 N·m (389 lbf·ft) of maximum torque. This is supplemented by two electric motors delivering an additional 279 PS (205 kW). One 154 hp (115 kW) electric motor drives the rear wheels in parallel with the engine and also serves as the main generator. This motor and engine deliver power to the rear axle via a 7-speed gearbox coupled to Porsche's own PDK double-clutch system. The front 125 PS (92 kW) electric motor directly drives the front axle; an electric clutch decouples the motor when not in use. The total system delivers 887 PS (652 kW) and 1,280 N·m (940 lbf·ft) of torque. By October 2012, the engineering design was not finalized, but Porsche provided performance figures of 0–100 km/h (62 mph) in 2.5 seconds, 0-200 km/h (120 mph) in 7.2 seconds, 0-300 km/h (190 mph) in 19.9 seconds and a tested top speed of 350 km/h (217 mph). The Porsche 918 Spyder has a power to weight ratio of 1.92 kg (4.23 lb) per horsepower, and the Weissach Package-equipped car has a power to weight ratio of 1.84 kg (4.06 lb) per horsepower.
ABOUT porsche
Ferdinand Porsche founded the company called "Dr. Ing. h. c. F. Porsche GmbH" in 1931, with main offices at Kronenstraße 24 in the centre of Stuttgart. Initially, the company offered motor vehicle development work and consulting, but did not build any cars under its own name. One of the first assignments the new company received was from the German government to design a car for the people, that is a "Volkswagen".  This resulted in the Volkswagen Beetle, one of the most successful car designs of all time.  The Porsche 64 was developed in 1939 using many components from the Beetle. Porsche SE was created in June 2007 by renaming the old Dr. Ing. h.c. F. Porsche AG, and became a holding company for the families' stake in Porsche Zwischenholding GmbH (50.1%) (which in turn held 100% of the old Porsche AG) and Volkswagen AG (50.7%). At the same time, the new Dr. Ing. h.c. F. Porsche AG (Porsche AG) was created for the car manufacturing business. In August 2009, Porsche SE and Volkswagen AG reached an agreement that the car manufacturing operations of the two companies would merge in 2011, to form an "Integrated Automotive Group". The management of Volkswagen AG agreed to 50.76% of Volkswagen AG being owned by Porsche SE in return for Volkswagen AG management taking Porsche SE management positions (in order for Volkswagen management to remain in control), and for Volkswagen AG acquiring ownership of Porsche AG. As of the end of 2015, the 52.2% control interest in VW AG is the predominant investment by Porsche SE, and Volkswagen AG in turn controls brands and companies such as Volkswagen, Audi, SEAT, Škoda, Bentley, Bugatti, Lamborghini, Porsche AG, Ducati, VW Commercial Vehicles, Scania, MAN, as well as Volkswagen Financial Services. Dr. Ing. h.c. F. Porsche AG (which stands for Doktor Ingenieur honoris causa Ferdinand Porsche Aktiengesellschaft), as a 100% subsidiary of VW AG, is responsible for the actual production and manufacture of the Porsche automobile line. The company currently produces Porsche 911, Boxster and Cayman sports cars, the Cayenne and Macan sport utility vehicles and the four-door Panamera.
OTHER porsche'S AVAILABLE
porsche Hire in Europe
More Luxury Brands in Europe
More Luxury Categories in Europe