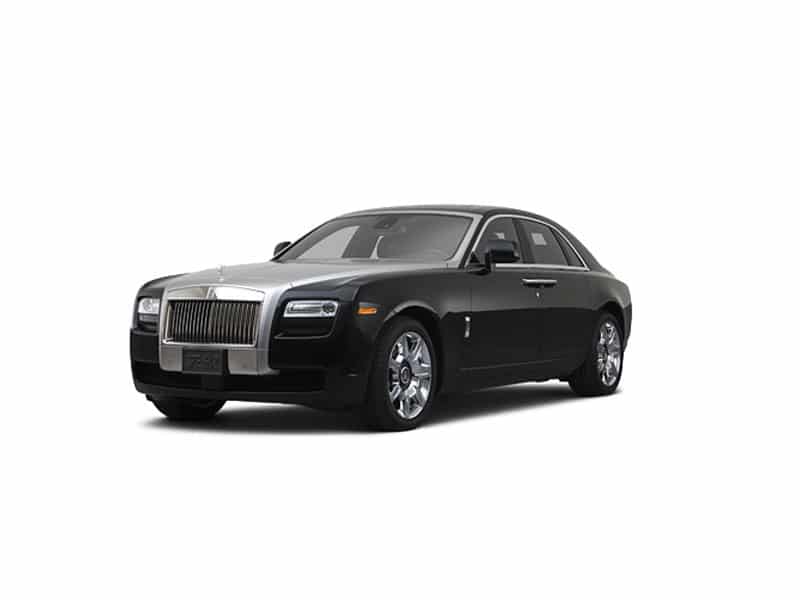 HIRE A Rolls-Royce Ghost
ENGINE SIZE
6.6 L V12
BHP
570
0 to 100km/hr
5 SECONDS
TOP SPEED
249km/h
Book this car now for fully guaranteed delivery
FROM ONLY
€1100 / DAY
Call our dedicated reservation team on +34 617 778 453
Rolls-Royce Ghost RENTAL
The Exterior
The Rolls Royce Ghost is the Phantom´s baby sister but is still an imposing size, standing apart from anything else on the road. It is a truly magnificent car and beautiful piece of engineering.The twin turbo V12 engine is taken from the BMW 760Li with parts from the 750´s V8 but the Rolls engine grows from 6L to 6.6L . You certainly will have the speed but in this car it is impossible to rush.
Engine and Driving Power
It would be foolish to talk about the Ghost in terms of performance, handling or technical know how – all are exceptional – because it is a car that is special because of the way it makes you feel. The two options are that you drive it or you are driven. Rolls Royce call it the drivers Rolls Royce. You will undoubtedly enjoy the composure on corners, you will be amazed by the speed of this massive car and relish the stately comfort.
The Interior
If you choose to be pampered in the back you will enjoy the magnificent luxury of the deep pile carpet, the look and feel of the wood and leather, the perfection of the immaculate stitching and the effortless travel.
ABOUT rolls royce
The company Rolls-Royce Motors was created in 1973 during the de-merger of the Rolls-Royce car business from the nationalised Rolls-Royce Limited. Vickers acquired the company in 1980 and sold it to Volkswagen in 1998. Rolls-Royce Motor Cars Limited engineers, manufactures and distributes luxury automobiles and automobile parts worldwide. Rolls-Royce Motor Cars Limited is a wholly owned subsidiary of BMW established in 1998 after BMW was licensed the rights to the Rolls-Royce brand name and logo from Rolls-Royce PLC and acquired the rights to the Spirit of Ecstasy and Rolls-Royce grill shape trademarks from Volkswagen AG. Find out more about Rolls Royce on their website: 
http://rolls-roycemotorcars.com/
OTHER rolls royce'S AVAILABLE
rolls royce Hire in Europe
More Luxury Brands in Europe
More Luxury Categories in Europe