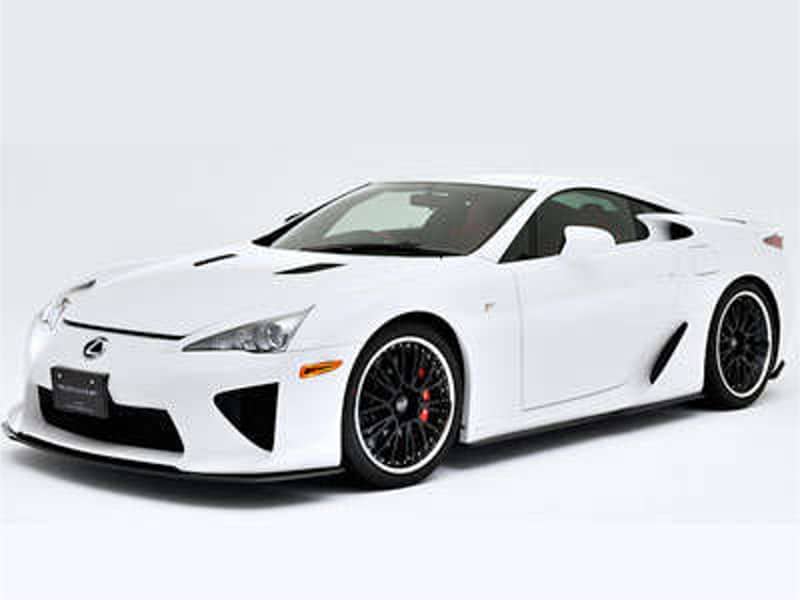 HIRE A Lexus LFA
ENGINE SIZE
4.8L V10
BHP
553
0 to 100km/hr
3.8 SECONDS
TOP SPEED
325 km/h
Book this car now for fully guaranteed delivery
Lexus LFA RENTAL
The Lexus LFA is powered by a 72-degree bank angle 4.8-liter V10 engine equipped with dual VVT-i carrying the 1LR-GUE designation with a maximum output of 412 kW (560 PS) delivered at 8,700 rpm. Its maximum torque output of 480 N·m (354 lb·ft) arrives at 6,800 rpm, 90 percent of which is available from 3,700 rpm. The engine redlines at 9,000 rpm, but with a fuel cutoff set at 9,500 rpm,[53] and is constructed using forged aluminum pistons, forged titanium connecting rods, and solid titanium valves. The V-angle of the LFA's V-10 engine is set to 72-degrees to fully balance the firing force from the pistons.
This 72-degree angle allows for even firing from the pistons without the use of a split-journal crankshaft, thus improving engine efficiency as well as lowering overall weight. Dry sump lubrication prevents engine oil starvation through high speed corners and lowers the engine's center of mass. Air is fed directly from beneath the hood through a visible slit passing into a dual stage variable intake manifold and then into ten individual throttle bodies before finally exiting from a dual-stage titanium muffler.
ABOUT lexus
Lexus  is the luxury vehicle division of Japanese car maker Toyota. The Lexus marque is marketed in more than 70 countries and territories worldwide and has become Japan's largest-selling make of premium cars. It has ranked among the 10 largest Japanese global brands in market value. Lexus is headquartered in Nagoya, Japan. Operational centers are located in Brussels, Belgium and the U.S. in Plano, Texas.Lexus originated from a corporate project to develop a new premium sedan, code-named F1, which began in 1983 and culminated in the launch of the Lexus LS in 1989. Subsequently, the division added sedan, coupé, convertible and SUV models.In January 2012, the marque began sales of the fourth generation GS line, including GS 350 and GS 450h variants, as well as a lower-displacement GS 250 model for select markets. In April 2012, the sixth generation ES line, include ES 350 and ES 300h variants, debuted at the New York International Auto Show.In April 2014, Lexus unveiled the five-seater NX crossover. The vehicle features a very first for a Lexus vehicle: a turbocharger. Its nomenclature is denoted as the 200t. In August 2014, Toyota announced it would be cutting its Lexus spare parts prices in China by up to 35 percent. The company admitted the move was in response to a probe foreshadowed earlier in the month by China's National Development and Reform Commission of Lexus spare parts policies, as part of an industry-wide investigation into what the Chinese regulator considers exorbitantly high prices being charged by automakers for spare parts and after-sales servicing.In March 2016, Lexus announced that it will be producing a new flagship vehicle: the two-door LC 500. The vehicle will be produced for late 2017 in a V8 version putting out 467 horsepower. The LC 500h, a V6 hybrid variant, could potentially become available in late 2017 or early 2018.