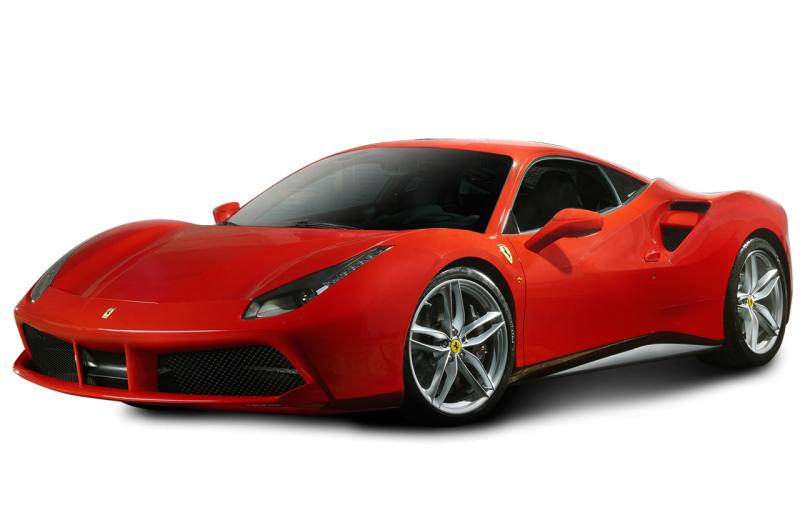 HIRE A Ferrari 488 GTB

ENGINE SIZE
3.9 L V8
BHP
660
0 to 100km/hr
3 SECONDS
TOP SPEED
330km/h
Book this car now for fully guaranteed delivery
FROM ONLY
€990 / DAY
Call our dedicated reservation team on +34 617 778 453
Ferrari 488 GTB RENTAL
The Ferrari 488 (Tipo F142M) is a mid-engined sports car produced by the Italian sports car manufacturer Ferrari, introduced in 2015 to replace the previous 458.
It is powered by a 3.9-litre twin-turbocharged V8, smaller in displacement and higher in output than the 458's naturally aspirated engine. The 488 GTB was named "The Supercar of the Year 2015" by car magazine Top Gear, as well as becoming Motor Trend's 2017 "Best Drivers Car".
The first 488 to be introduced was the 488 GTB 2-seat berlinetta, successor to the 458 Italia. It was launched on 3 February 2015, in advance of its world première at the March 2015 Geneva Motor Show.
Claimed manufacturer performance for the 488 GTB is 0–100 km/h (0–62 mph) in 3.0 seconds, 0–200 km/h (0–124 mph) in 8.3 seconds, covering the quarter mile in 10.45 seconds and continuing to a top speed in excess of 330 km/h (205 mph).
Ferrari 488 GTB has a weight to power ratio of 2.2 kg (4.85 lb) per horsepower.
ABOUT ferrari
Ferrari S.p.A. is an Italian luxury sports car manufacturer based in Maranello. Founded by Enzo Ferrari in 1929, as Scuderia Ferrari, the company sponsored drivers and manufactured race cars before moving into production of street-legal vehicles in 1947. Enzo Ferrari was not initially interested in the idea of producing road cars when he formed Scuderia Ferrari in 1929. Ferrari prepared and fielded Alfa Romeo racing cars for amateur drivers. In 1933 Alfa Romeo withdrew its in-house racing team and appointed Scuderia Ferrari as works team. The first Ferrari road car was the 1947 125 S, powered by a 1.5 L V12 engine – Enzo Ferrari reluctantly built and sold his automobiles to fund Scuderia Ferrari. Since the companys beginnings, Ferrari has been involved in motorsport, competing in a range of categories including Formula One and sports car racing through its Scuderia Ferrari sporting division as well as supplying cars and engines to other teams and for one make race series.
OTHER ferrari'S AVAILABLE
ferrari Hire in Europe
More Luxury Brands in Europe
More Luxury Categories in Europe