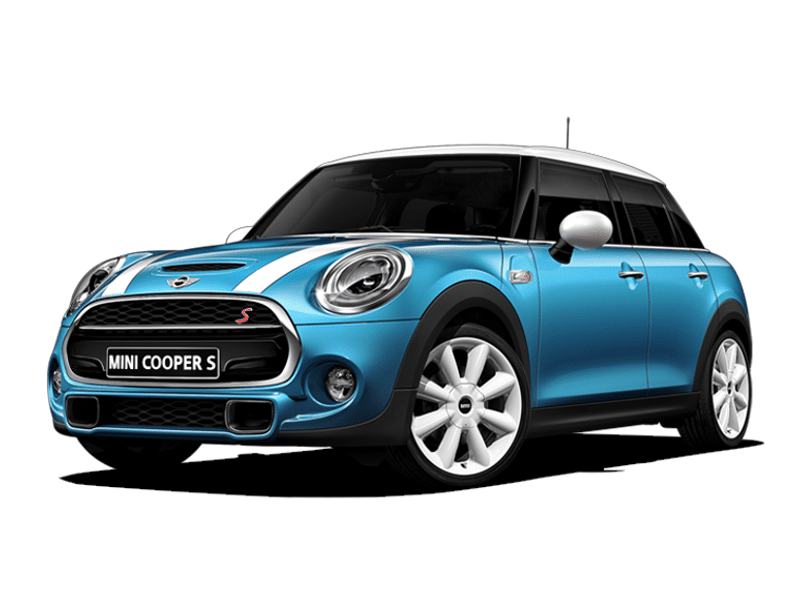 HIRE A MINI Cooper S
ENGINE SIZE
1.6 L I4
BHP
172
0 to 100km/hr
6.7 SECONDS
TOP SPEED
223km/h
Book this car now for fully guaranteed delivery
FROM ONLY
€150 / DAY
Call our dedicated reservation team on +34 617 778 453
MINI Cooper S RENTAL
The last Mark VII Mini, and the 5,387,862nd and final original two-door Mini to be produced, a red Cooper Sport, was built at the Longbridge plant in October 2000. The car was driven off the production line by the pop singer Lulu, and was subsequently housed at the Heritage Motor Centre in Gaydon, alongside the first Mini Mark I ever made.[23] The new generation Mini Hatch/Hardtop went on sale in July 2001 and was an immediate sales success.
In February 2005, BMW announced an investment of £100 million in the Mini plant in Oxford, United Kingdom, creating 200 new jobs and enabling production output to be increased by 20%.
At the North American International Auto Show in January 2011, BMW announced that it would be extending the Mini range with the launch of two new two-door sports crossover vehicles based on the Mini Paceman concept car, with a coupe version planned to enter production in 2011 and a roadster to follow in 2012. In June 2011, BMW announced an investment of £500 million in the UK over the subsequent three years as part of an expansion of the Mini range to seven models.
ABOUT mini
Mini (stylised as MINI) is a British automotive marque, owned by BMW since 2000, and used by them for a range small cars. The word Mini has been used in car model names since 1959, and in 1969 it became a marque in its own right when the name "Mini" replaced the separate "Austin Mini" and "Morris Mini" car model names. BMW acquired the marque in 1994 when it bought Rover Group (formerly British Leyland), which owned Mini, among other brands. The original Mini was a line of iconic British small cars manufactured by the British Motor Corporation, and its successors. Their models included the Morris Mini-Minor and the Austin Seven, the Countryman, Moke, 1275GT and Clubman. Performance versions of these models used the name Cooper, due to a partnership with racing legend John Cooper. The original two-door Mini continued in production until 2000. Development of a successor began in 1995 and the new generation car was launched in 2001. The current Mini range includes the Hardtop/Hatch/Convertible (three-door hatchback), Clubman (estate), Countryman (five-door crossover), Coupe/Roadster and Paceman (three-door crossover based on the Countryman). The Mini was originally a product of the British Motor Corporation, which in 1966 became part of British Motor Holdings. British Motor Holdings merged with Leyland Motors in 1968 to form British Leyland. In the 1980s, British Leyland was broken-up and in 1988 Rover Group, including Mini, was acquired by British Aerospace. In 1994, Rover Group was acquired by BMW. In 2000, Rover Group was broken up by BMW, with BMW retaining the Mini brand.
mini Hire in Europe
More Luxury Brands in Europe
More Luxury Categories in Europe