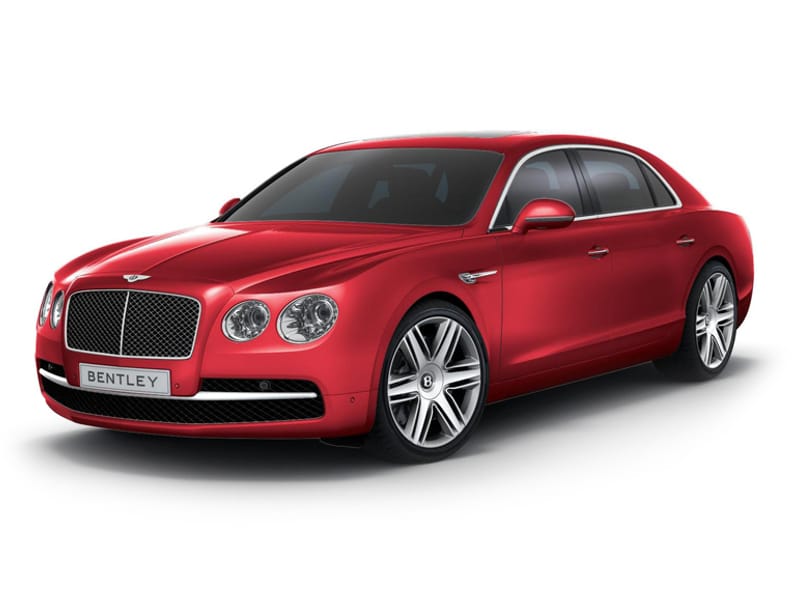 HIRE A Bentley Flying Spur
ENGINE SIZE
6.0L W12
BHP
616
0 to 100km/hr
4.3 SECONDS
TOP SPEED
321km/h
Book this car now for fully guaranteed delivery
FROM ONLY
€1000 / DAY
Call our dedicated reservation team on +34 617 778 453
Bentley Flying Spur RENTAL
On 12 February 2013, Bentley Motors announced a redesigned Flying Spur for model-year 2014. The 2014 Flying Spur was first unveiled to the public at the 2013 Geneva Motor Show. The "Continental" prefix has been omitted from Bentley's promotional material for this model. It carries the same twin-turbo 6.0-litre W12 used in the Continental GT, for an output of 616 horsepower, 590 pound-feet of torque and zero-to-sixty-mph time of 4.3 seconds. The sedan weighs 5,451 pounds and has a new eight-speed automatic transmission for the 2014 model-year. Its all-wheel-drive system is rear-biased with a ratio of 60:40.
The 2014 Flying Spur is expected to get better fuel economy by U.S. EPA estimates, with (uncertified) projections of 12 miles per gallon (mpg) in the city and 20 mpg on the highway.
Changes include increased engine performance (from Continental GT Speed), a ZF eight-speed transmission, a redesigned body with a lower, wider appearance with sharp lines and gently curvaceous surfaces; a new wing vent at the front fenders; new body structure including reinforcement to the B-posts, sills and front crossmembers combined with deformable components in the floorpan for optimal load transfer; a deployable aluminium bonnet that includes both new reinforcement panels and deformation elements; 600 new interior parts, lightweight acoustic underfloor panels, side glazing and both front and rear screens made in acoustic glass; a heating and ventilation system with a new Thermostatic Expansion Valve (with optional Climate Boost function), new 19″ tyres with a 12% relative increase in sidewall height, suspension spring rates are softened front and rear by 10% and 13% respectively, anti-roll bars softened by 13% and 15% to improve single wheel impact absorption, suspension lever bushes all-round softened by at least 25% for reduced road noise and vibration, revised continuous damping control (CDC),and new 19-inch Classic wheels in bright-painted or diamond turned finishes (optional 20-inch five-spoke, 21-inch six-spoke and 21-inch ten-spoke wheels).
ABOUT bentley
Since Bentley began manufacturing luxurious automobiles in 1919 it has well be known as a marque that offers nothing but the best in luxury, comfort and performance. As a brand Bentley are well know for their successes in the motorsport world including many record wins at Le Mans. Our Bentley Hire service offers you the opportunity to take the wheel of one of these amazing machines and experience the amazing feeling that is driving one of these amazing motors. You can hire a Bentley GTC for a prom or wedding or opt for a Bentley Mulsanne Rental for your next business trip. Whatever your choice if its a Bentley you can be sure of its excellence. Coupled with out well know 5 star level of service you have total peace of mind when you hire a Bentley with 365 Luxury Car Hire.
OTHER bentley'S AVAILABLE
bentley Hire in Europe
More Luxury Brands in Europe
More Luxury Categories in Europe