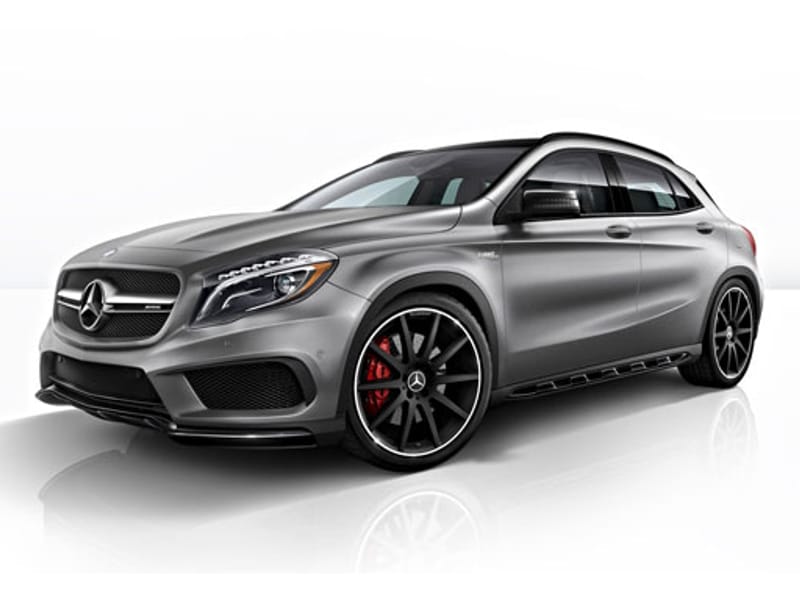 HIRE A Mercedes GLA45 AMG
ENGINE SIZE
2L turbocharged
BHP
355
0 to 100km/hr
4.8 SECONDS
TOP SPEED
250 km/h
Book this car now for fully guaranteed delivery
FROM ONLY
€210 / DAY
Call our dedicated reservation team on +34 617 778 453
Mercedes GLA45 AMG RENTAL
The name GLA was devised in accordance with the revised Mercedes-Benz nomenclature for SUVs. This was formally announced in November 2014 to begin rollout in 2015. However, the GLA-Class name was already compliant with the naming structure since its debut. Under this scheme, SUVs use the base name "GL", followed by the model's placement in Mercedes-Benz hierarchy. The "G" is for geländewagen (German for off-road vehicle) and alludes the long-running G-Wagen. This is followed by the letter "L" that acts as a linkage with the letter "A"—the GLA being the SUV equivalent to the A-Class.
Designed to compete with the BMW X1 and Audi Q3, It slots below the Mercedes-Benz GLK-Class, renamed GLC-Class from 2015.
The design of GLA 45 AMG is based on Concept GLA45 AMG, with AMG sports suspension (MacPherson strut front axle with stiffer steering knuckles, four-link rear axle, optimised elastokinematics, specially tuned spring/damper units, bigger anti-roll bars), electromechanical AMG speed-sensitive sports steering, AMG high-performance braking system (ventilated, cross-drilled brake discs, grey-painted brake callipers (optional red)), 3-stage ESP with "SPORT Handling" mode, ESP Curve Dynamic Assist, 5-twin-spoke AMG light-alloy wheels painted titanium grey with high-sheen finish and 235/45 R 19 tyres (optional 10-spoke AMG light-alloy wheels in 2 a choice of 2 colours (titanium grey with high-sheen finish, matt black with high-sheen rim flange) 235/40 R 20 tyres), AMG front apron with front splitter in matt titanium grey, AMG 'twin blade' radiator grille in matt titanium grey, black flics (air deflector elements) above the large exterior cooling air intakes, bi-xenon headlamps, side sill panels with titanium grey inserts, 'TURBO AMG' lettering on the front wings and the aluminium roof rails, rear diffuser insert with titanium grey trim, rectangular chrome-plated tailpipe trim at the twin tailpipes.
Launch models of the AMG are sold as "Edition 1", available for one year from market launch, and include a high-gloss black Aerodynamics package with larger front splitter, additional flics in the front apron, and rear aerofoil. The vehicle was unveiled at the 2014 North American International Auto Show with sales from the summer of 2014.
ABOUT mercedes
Mercedes-Benz traces its origins to Karl Benz's creation of the first petrol-powered car, the Benz Patent Motorwagen, financed by Bertha Benz and patented in January 1886, and Gottlieb Daimler and engineer Wilhelm Maybach's conversion of a stagecoach by the addition of a petrol engine later that year. The Mercedes automobile was first marketed in 1901 by Daimler-Motoren-Gesellschaft (Daimler Motors Corporation). Emil Jellinek, an Austrian automobile entrepreneur who worked with DMG created the trademark in 1902, naming the 1901 Mercedes 35 hp after his daughter Mercedes Jellinek. The first Mercedes-Benz brand name vehicles were produced in 1926, following the merger of Karl Benz's and Gottlieb Daimler's companies into the Daimler-Benz company. On 28 June 1926, Mercedes-Benz was formed with the merger of Karl Benz and Gottlieb Daimler's two companies. Gottlieb Daimler was born on 17 March 1834 in Schorndorf. After training as a gunsmith and working in France, he attended the Polytechnic School in Stuttgart from 1857 to 1859. After completing various technical activities in France and England, he started work as a draftsman in Geislingen in 1862. At the end of 1863, he was appointed workshop inspector in a machine tool factory in Reutlingen, where he met Wilhelm Maybach in 1865. Throughout the 1930s, Mercedes-Benz produced the 770 model, a car that was popular during Germany's Nazi period. Adolf Hitler was known to have driven these cars during his time in power, with bulletproof windshields. Most of the surviving models have been sold at auctions to private buyers. One of them is currently on display at the War Museum in Ottawa, Ontario. The pontiff's Popemobile has often been sourced from Mercedes-Benz. In 1944, 46,000 forced laborers were used in Daimler-Benz's factories to bolster Nazi war efforts. The company later paid $12 million in reparations to the laborers' families. Mercedes-Benz has introduced many technological and safety innovations that later became common in other vehicles. Mercedes-Benz is one of the best-known and established automotive brands in the world.
OTHER mercedes'S AVAILABLE
mercedes Hire in Europe
More Luxury Brands in Europe
More Luxury Categories in Europe