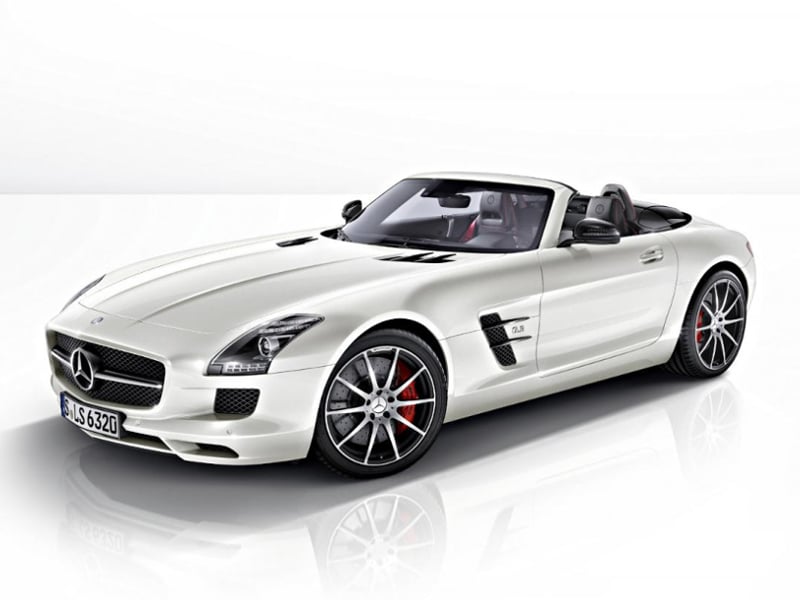 HIRE A Mercedes SLS Roadster
ENGINE SIZE
6.2L V8
BHP
563
0 to 100km/hr
3.6 SECONDS
TOP SPEED
197 km/h
Book this car now for fully guaranteed delivery
FROM ONLY
€900 / DAY
Call our dedicated reservation team on +34 617 778 453
Mercedes SLS Roadster RENTAL
The Mercedes-Benz SLS AMG (C197 / R197) is a front mid-engine, 2-seater luxury, limited production supercar automobile developed by Mercedes-AMG of German automaker Mercedes-Benz and was the first Mercedes-Benz automobile designed in-house by AMG. The car, which has gull-wing doors, was the successor to the Mercedes-Benz SLR McLaren and was described by Mercedes-Benz as a spiritual successor to the Mercedes-Benz 300SL Gullwing. SLS stands for "Sport Leicht Super" (Sport Light Super). The Mercedes-Benz SLS AMG was assembled largely by hand, with its chassis and aluminum body shell produced by Magna Steyr in Graz, Austria and then transferred to Sindelfingen, Germany for assembly, with its engine being hand built by AMG in Affalterbach, Germany.
It was the first Mercedes-Benz designed and built from scratch entirely by AMG. Upon its introduction the SLS AMG's 571 PS (420 kW; 563 hp) M159 engine was according to AMG "the world's most powerful naturally aspirated production series engine" ever produced. In fact, the 6.2 liter engine (the engine was based on the M156 block) was modified to such an extent that AMG gave it a separate engine code—M159—to signify the more than 120 different parts used in the SLS engine (as well as the addition of a dry-sump lubrication system to handle the car's high cornering speeds and racing capabilities).
The vehicle was unveiled at the 2009 Frankfurt Motor Show, and sales commenced in mid-2010 in Europe and in mid-2011 in the United States. Mercedes presented an electric version of the car, the SLS AMG Electric Drive, at the 2012 Paris Motor Show. Production ended with the SLS AMG GT FINAL EDITION in early 2014. Compared with its predecessor (the Mercedes-McLaren SLR), the SLS is, per Mercedes-AMG head Tobias Moers, the faster car on the track, both in the hands of normal drivers as well as race drivers. This may be attributable in part to the SLS's lightweight aluminum frame—the company's first ever use of an aluminum chassis and body frame. The Mercedes SL65 AMG Black Series, by way of example, with its use of carbon and other light weight materials, had a curb weight of over two tons, at 4,350 pounds. Even the Mercedes-McLaren SLR supercar, with its emphasis on light weight, came in at 3,860 pounds. The SLS, however, has a curb weight of just 3,573 pounds, and that's with its standard wheels—it had a (very expensive) ceramic-composite brake option that reduced the unsprung weight of the wheels by 40%. The SLS also came with a carbon-fiber shaft for its dual clutch transmission. Perhaps for these reasons, the SLS AMG achieves a lateral acceleration of 0.99. This bests even the Mercedes-McLaren SLR, which achieves a 0.97 figure.
The SLS has been owned by many celebrities, including Eddie Murphy, Arnold Schwarzenegger, Al Pacino, Floyd Mayweather, Boris Becker, Mark Wahlberg, Roger Federer, Sylvester Stallone, Tom Hanks, and Cristiano Ronaldo,as well as a number of car enthusiast celebrities, such as Jay Leno and Jeremy Clarkson, but perhaps most impressively, by premier racing drivers, among them Lewis Hamilton, and it was developed with the assistance of David Coulthard. In his review for "Top Gear," Jeremy Clarkson referred to the SLS AMG as "the greatest car in the world," noting that "it's more powerful than a Ferrari 458, just, it's a little bit louder than a Lamborghini, and it's way more fun than the 911RS GT Turbo 3S or whatever this week's ultimate Beetle (i.e., Porsche) is called; this is the thinking man's supercar."
The SLS AMG was followed in 2014 by the substantially less expensive, and less powerful, Mercedes-AMG GT. Designed to compete against the Porsche 911, it relies on forced induction for its power and is available as a 462 PS (340 kW; 456 hp) GT and 510 PS (375 kW; 503 hp) GT S. AMG/Mercedes does not plan to replace the SLS any time soon, with AMG head Tobias Moers being quoted as follows in 2015: "Moers was adamant in reiterating that a true replacement for the modern Gullwing is not yet on the radar. 'Honestly, there's no [Mk II SLS] program running. Our homework for the next years is so much, so we took the decision to not replace directly the SLS because SLS has to stand by its own and the Gullwing is an iconic car.[…] If it takes 50 to 60 years to have a Gullwing replacement coming out of the 1950s then we can wait a few more years' [to replace the SLS Gullwing]." Moers was also quoted as follows: "Speaking to Autocar at the (2015) Geneva Motor Show, Mercedes-AMG boss Tobias Moers confirmed that the company has no plans to create a new supercar to replace the SLS. According to Moers, Mercedes is 'not in that league' at this moment in time."
As summed up by Moers, the "SLS AMG has won numerous awards of international significance. Not least on the basis of its breathtaking design and acknowledged superb driving dynamics, the super sports car from Mercedes-AMG is today already determined to be a classic of the future," and particularly the "spectacular gullwing model," with these cars made more special by virtue of their also being "the first vehicle to be completely built by Mercedes-AMG."
ABOUT mercedes
Mercedes-Benz traces its origins to Karl Benz's creation of the first petrol-powered car, the Benz Patent Motorwagen, financed by Bertha Benz and patented in January 1886, and Gottlieb Daimler and engineer Wilhelm Maybach's conversion of a stagecoach by the addition of a petrol engine later that year. The Mercedes automobile was first marketed in 1901 by Daimler-Motoren-Gesellschaft (Daimler Motors Corporation). Emil Jellinek, an Austrian automobile entrepreneur who worked with DMG created the trademark in 1902, naming the 1901 Mercedes 35 hp after his daughter Mercedes Jellinek. The first Mercedes-Benz brand name vehicles were produced in 1926, following the merger of Karl Benz's and Gottlieb Daimler's companies into the Daimler-Benz company. On 28 June 1926, Mercedes-Benz was formed with the merger of Karl Benz and Gottlieb Daimler's two companies. Gottlieb Daimler was born on 17 March 1834 in Schorndorf. After training as a gunsmith and working in France, he attended the Polytechnic School in Stuttgart from 1857 to 1859. After completing various technical activities in France and England, he started work as a draftsman in Geislingen in 1862. At the end of 1863, he was appointed workshop inspector in a machine tool factory in Reutlingen, where he met Wilhelm Maybach in 1865. Throughout the 1930s, Mercedes-Benz produced the 770 model, a car that was popular during Germany's Nazi period. Adolf Hitler was known to have driven these cars during his time in power, with bulletproof windshields. Most of the surviving models have been sold at auctions to private buyers. One of them is currently on display at the War Museum in Ottawa, Ontario. The pontiff's Popemobile has often been sourced from Mercedes-Benz. In 1944, 46,000 forced laborers were used in Daimler-Benz's factories to bolster Nazi war efforts. The company later paid $12 million in reparations to the laborers' families. Mercedes-Benz has introduced many technological and safety innovations that later became common in other vehicles. Mercedes-Benz is one of the best-known and established automotive brands in the world.
OTHER mercedes'S AVAILABLE
mercedes Hire in Europe
More Luxury Brands in Europe
More Luxury Categories in Europe