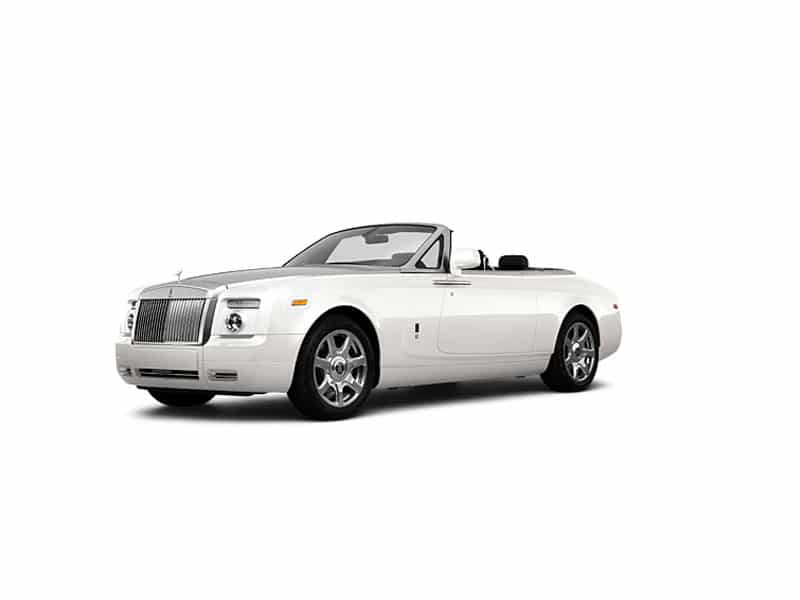 HIRE A Rolls-Royce Drophead Coupe
ENGINE SIZE
6.75 L V12
BHP
453
0 to 100km/hr
5.7 SECONDS
TOP SPEED
240km/h
Book this car now for fully guaranteed delivery
FROM ONLY
€1800 / DAY
Call our dedicated reservation team on +34 617 778 453
Rolls-Royce Drophead Coupe RENTAL
The Exterior
The Rolls Royce Phantom Drophead Coupe is a car that shows why Rolls Royce is famous for their attention to detail. Every single detail has been thought and rethought resulting in one of the most perfect cars ever. It is a huge car but remains extraordinarily graceful despite this. This is not just the Phantom with the roof cut away, each of the panels creates a less formal look and is a simply beautiful car.
Engine and Driving Power
In other V12 engine cars there is a fuss made about the growl of the engine and the adrenaline inducing roar, not in the Drophead. The engine starts quietly and barely emits a hum until 5000 rpm but even then it only murmers. Where other supercars try to increase your heart beat the Rolls Royce succeeds in lowerering it.Rent this car and experience the immense respect that it quietly commands from everyone who appreciates beauty.The Spirit of Ecstasy " who has selected road travel as her supreme delight is expressing her keen enjoyment, with her arms outstretched and her sight fixed upon the distance" surely would think this was one of the best examples of travel produced by Rolls Royce.
ABOUT rolls royce
The company Rolls-Royce Motors was created in 1973 during the de-merger of the Rolls-Royce car business from the nationalised Rolls-Royce Limited. Vickers acquired the company in 1980 and sold it to Volkswagen in 1998. Rolls-Royce Motor Cars Limited engineers, manufactures and distributes luxury automobiles and automobile parts worldwide. Rolls-Royce Motor Cars Limited is a wholly owned subsidiary of BMW established in 1998 after BMW was licensed the rights to the Rolls-Royce brand name and logo from Rolls-Royce PLC and acquired the rights to the Spirit of Ecstasy and Rolls-Royce grill shape trademarks from Volkswagen AG. Find out more about Rolls Royce on their website: 
http://rolls-roycemotorcars.com/
OTHER rolls royce'S AVAILABLE
rolls royce Hire in Europe
More Luxury Brands in Europe
More Luxury Categories in Europe