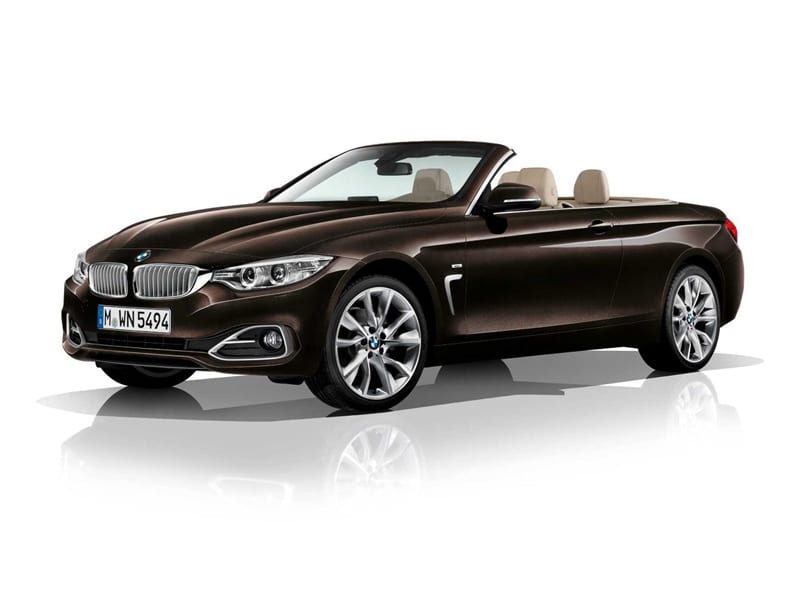 HIRE A BMW 4 Series Convertible
ENGINE SIZE
2 L Diesel
BHP
181
0 to 100km/hr
7.3 SECONDS
TOP SPEED
249 km/h
Book this car now for fully guaranteed delivery
FROM ONLY
€200 / DAY
Call our dedicated reservation team on +34 617 778 453
BMW 4 Series Convertible RENTAL
The car formerly known as the 3-Series Convertible. In 2013, BMW rebranded its two-door C-Class coupe rival as 4-Series, and now the similarly two-door'd convertible has followed suit. Like its predecessor, the 4-Series uses a three-piece folding hard-top instead of a simpler though less secure fabric roof. That's bad news for weight – the 4-Series convertible tips the scale a couple of hundred kilos heavier than its equivalent coupe – but good news for raised-roof refinement, rigidity and a lighter, brighter cabin. Usual comprehensive range of engines, driving either rear or all four wheels.
Roof-up, the convertible 4 drives very much like its hard-top coupe cousins – which is to say very tidily indeed – albeit one with a very slight weave as it goes into a corner and the extra high-mounted rearward weight settles itself. Roof down, you'll feel a little more body wobble, and a slight further degradation in the steering crispness. Not severe, just a little woozy, as if it's just woken up from taking a nap. But that's only in comparison to the 4 coupe: by cabrio standards, though, this car is more than tidy enough. More important is the 4's open-air refinement: with the rear wind-blocker in place and the windows up, there's remarkably little turbulence, while hairdryer-type neck-warmers in the seat keep your nape cosy.
The M4 Convertible was a later addition and is almost as good as the Coupe. It's almost as quick, with added drama from being able to hear the exhaust not much more clearly with the roof down. In our book, that makes it very good indeed, then.
ABOUT BMW
When considering which luxury car marque to hire BMW is often one of the first names that comes to mind. 365 luxury car hire are very proud to be able to offer some of the most sought after BMWs for hire right across Europe. Perhaps a BMW M3 Rental will give you that sporty thrill or you could Hire a BMW M6, the M3s bigger brother. For the sheer fun factor a BMW Z4 rental is guaranteed to make your next trip away enjoyable. Bavarian Motor Works Founded in 1916 in Bavaria, BMW has almost 100 years of prestige automotive excellence to offer and this can be seen in every single car they make. Aside from being a mark of quality BMW are one of the larger luxury car brand manufacturers in the world.
BMW Hire in Europe
More Luxury Brands in Europe
More Luxury Categories in Europe